It's that time of year again – government contribution time – when the government adds money to your KiwiSaver account.
We've recently launched a government contribution tracker on our online portal, Fisher Funds Online. The tracker is the easiest way to see how you're going and check if you're likely to get the full government contribution.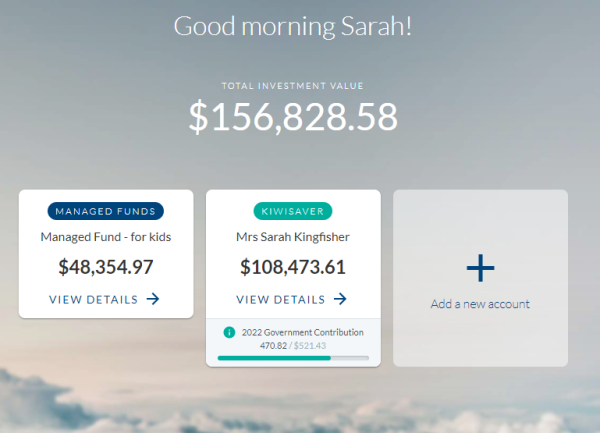 You get an extra 50c for every $1 you contribute – up to $521.43 a year
The government contribution encourages Kiwis to save for retirement by putting money into their KiwiSaver account.
For every $1 you contribute during the KiwiSaver year (1 July to 30 June), the government will contribute 50 cents, to a maximum of $521.43. To get the full government contribution, you must contribute at least $1042.86.
Top up your KiwiSaver account by $100 or more and you could win $500
Plus, if you top up your KiwiSaver account by $100 or more between 23 May and 24 June 2022, you'll be in our prize draw to win one of ten $500 cash prizes (terms and conditions apply).
You'll get the government contribution if you meet a few basic criteria
To be eligible for the government contribution, you must:
be a KiwiSaver member

be 18 years of age or older

not yet be entitled to withdraw your KiwiSaver for retirement

live mainly in New Zealand.
If you turned 18, reached retirement age or joined KiwiSaver part-way through the KiwiSaver year, you'll be eligible for a portion of the contribution. What you get depends on how long you were eligible.
The government contribution is not just for employees. If you're self-employed or not in paid employment you're still eligible – you just need to put money into your KiwiSaver account yourself.
It's your money that counts towards the government contribution
Only money that you contribute counts towards the government contribution. This includes contributions from your wage or salary, and voluntary contributions you make through IRD or Fisher Funds. Employer contributions, past government contributions and Aussie Super transfers do not count towards the $1042.86.
We'll claim your government contribution for you
You don't need to do anything to claim the government contribution – we do it for you at the end of each KiwiSaver year. You'll see the money in your account by the end of August.
Topping up is easy with Fisher Funds Online
If you're not on track to contribute $1042.86 by 30 June, you can top up your contributions easily at Fisher Funds Online. Just log in, go into your KiwiSaver account, and then select the "Add Funds" button.
Please top up by 24 June 2022 to allow us time to process your payment. Any deposits made after 24 June may miss the 30 June cut-off date and not count towards this year's government contribution calculation.
And don't forget – top up by $100 or more by the 24 June 2022, and you could win $500! (terms and conditions apply)
If you have questions or want to chat about your KiwiSaver account, our team would be happy to help. Give us a call on 0508 347 437, send us an email, or chat with us online by selecting the chat icon at fisherfunds.co.nz
---
Fisher Funds KiwiSaver Scheme
Build a better future with Fisher Funds. Over the last 20 years, we have helped over 250,000 Kiwis on their investment journey. We share our knowledge with our clients to help them make better financial decisions.
If you are ready to join, you can join online within minutes, or request a call from a KiwiSaver specialist to find out more.